Welcome to Welwyn Parish Council
Welwyn Parish Annual Assembly 
Wednesday 20 April, 7.30pm
Civic Centre Welwyn
ALL WELCOME 
Sunday 10th April - Civic Centre, Craft & Farmers Market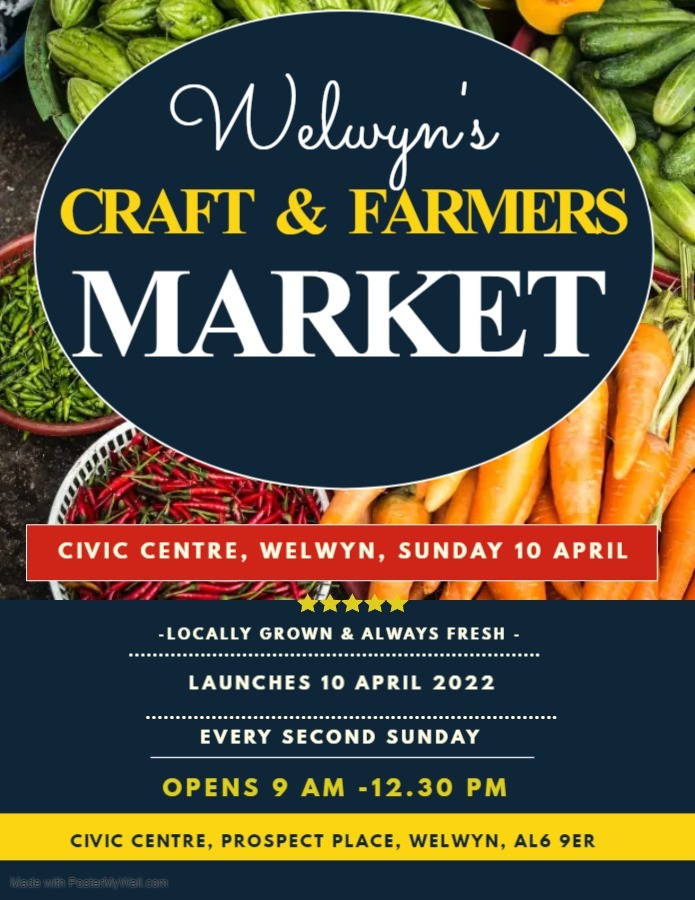 Consultation – Luton Airport Expansion
Luton Rising, the new trading name for London Luton Airport Limited (the company that owns the airport and wholly-owned by Luton Borough Council) are carrying out a further consultation on plans to expand the airport. This will be over a number of years and involve two phases to increase capacity from the current 18 million passengers per annum (mppa). Phase 1 (by 2027) will see the expansion of the existing terminal to increase capacity to 21.5 mppa; Phase 2 (by 2039) will see a new Terminal 2 to increase capacity to 27 mppa; further expansion of Terminal 2 (by 2043) will increase capacity to 32 mppa. No new runway is proposed so the proposals are geared around maximising the current runway capacity. Our parish is likely to be affected by this increase in air traffic. Are you concerned about over flying, noise or pollution? Will public transport infrastructure cope (they expect 45% of journeys to and from the airport by 2039 to be via public transport or other sustainable means and car parking is being diminished on that basis). Do you see advantages to the idea? The Parish Council will be responding as we have done to earlier consultations on this matter but you are invited to get involved and have your say directly. 
The consultation is open NOW and will run until Monday 4th April 2022. To find out all about the proposals, including road and public transport improvements, their mitigations strategies for noise, pollution, open space replacement and landscaping, please visit www.lutonrising.org.uk where you can also find details of their community events at various locations where you can go along and discuss. Responses can be made online, by email or by post, full details on the website. 
Casual Vacancy for Parish Councillor
Do you care about where you live?

Are you able to give up a bit of time to make decisions that will benefit your community?

Do you have ideas for improving your environment or tackling climate change on a local level?
Why not apply to fill our casual vacancy for Mardley Heath?
Welwyn Parish Council is led by eleven democratically elected or co-opted Councillors from our community and they decide on what services and projects Council will deliver. As representatives of the first tier of local government and the closest to our community, local councillors are best placed to engage with residents and find out what real local issues are and how to overcome them.
To find out more about being a Parish Councillor please contact the Clerk, Caroline Williams clerk@welwynpc.org.uk or speak to one of the current serving members, details can be found on the website.
To apply, please complete the Application Form and return it to clerk@welwynpc.org.uk or send to Council Offices, Lockleys Drive, Welwyn, Herts, AL6 9NT
Closing date Monday 14 February 2022
Notice of Casual Vacancy
In the office of Parish Councillor
Mardley Heath Ward of Parish of Welwyn
Notice is hereby given that there is a vacancy for a Parish Councillor due to the resignation of Councillor Tim Hogan.
On receipt of a request in writing from any ten local government electors for the said Parish Ward, an election to fill the vacancy will be held within sixty days. If no such request is made the vacancy will be filled by co-option by the Parish Council.
Requests for such an election should be addressed to:
The Returning Officer
Welwyn Hatfield Borough Council
The Campus
Welwyn Garden City
Herts
AL8 6AE
to arrive no later than 24 August 2021.
Caroline Williams, Clerk to Welwyn Parish Council, the Proper Officer for this purpose. 
Notice published 04 August 2021
High Street Recovery Engagement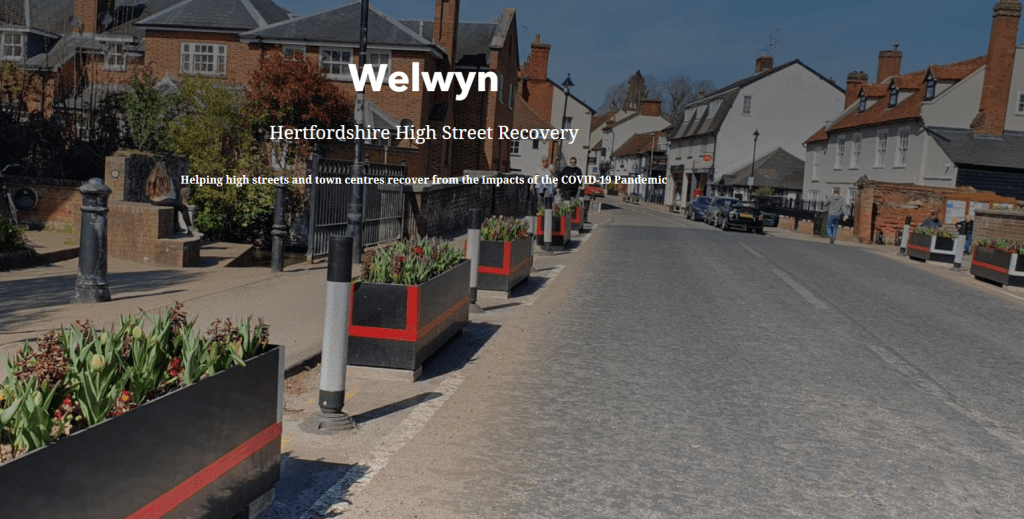 Hertfordshire County Council is seeking the views of local residents. Please take a few minutes to complete the survey about the speed restrictions and planters in place on Welwyn High Street, Church Street and Prospect Place. High Street Survey.
For more information about the scheme please visit their website here.
Welwyn Hatfield Local Plan
Hearing Sessions – Stage 9
Welwyn Parish Council were present at two of the virtual sessions:
10 March PM – Digswell and Oaklands & Mardley Heath sites (Dig 1, OMH 6, 7 & 9)
11 March AM – Welwyn sites (Wel 1, 2, 6 & 15)
These sessions considered the various representations made by organisations, developers, residents and Councils, to the matters raised by the Inspector relating to the exclusion of certain sites from the latest version of the Local Plan.  The Parish Council input can be found in pdf format for download here:  https://welwynpc.egnyte.com/dl/0NJwEOJPF1/?
The Parish Council were represented at both sessions by Councillor Bill Morris and Dr Ian Skidmore (from the Welwyn Parish Plan Group) and in the Welwyn sites session worked jointly with Russell Haggar and David Cheek (both from the Welwyn Planning and Amenity Group).
The proceedings were recorded and can be viewed here:
Digswell/Oaklands: https://welhat.public-i.tv/…/webcast_interactive/552357 
Welwyn:  https://welhat.public-i.tv/…/webcast_interactive/552358
Warning: Each session lasts for 3 hours +
The Inspector has further sessions to hear relating to sites outside of Welwyn Parish and after that will be compiling his report; this is likely to take some time due to the local council elections in May and the purdah period.
Neighbourhood Plan Survey
The Neighbourhood Plan Steering Group has now closed the survey for input of both paper and online responses.  Overall we had a 28% response rate with over 1170 replies.  The confidence level that those replies are representative of the whole parish population, is 95% ± 2.4%.  The data from the responses will be available as a .pdf file to download from the Council's web site in due course.  The replies are now being analysed to produce numbers and ideas for formulating policies and setting the direction for our future, in the various Plan sections.  More details will be published when available. 
Thank you to all who submitted replies, especially those who enclosed letters with additional views, opinions and suggestions.  The points made will be incorporated into our work and where possible we will reply directl
Response to Local Plan Consultation

The Parish Council has prepared a response to the Inspector of the Welwyn Hatfield Local Plan, in respect of additional sites that were excluded from the plan but which the Inspector is uncertain as to the soundness of that exclusion.  The Council believes they should be excluded.