Not sure which council you need to contact with an issue?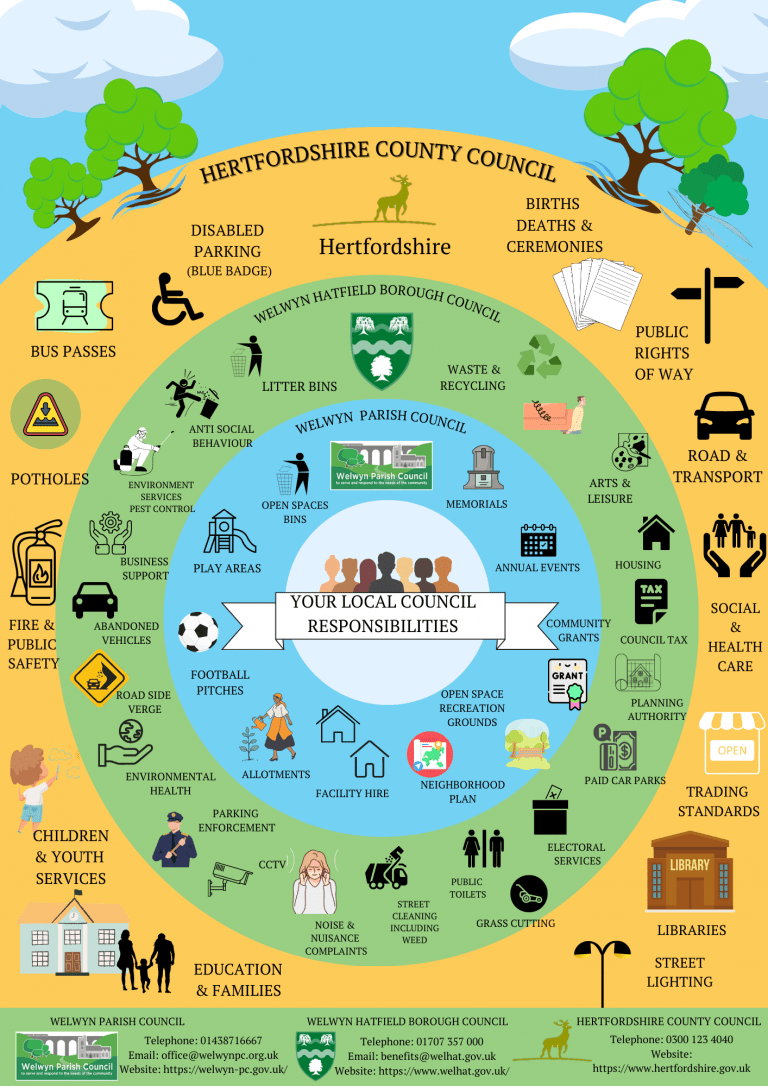 Below is a quick list of the different services that you receive from the County, Borough and Parish council locally. If you aren't sure you can contact any of us and we will do our best to direct you to the correct authority.
0300 123 4040      hertsdirect@hertfordshire.gov.uk      http://www.hertsdirect.org/
This covers the whole of Hertfordshire and covers the largest number of services and with it a large budget.  They account for the majority of local Council Tax as well as grants from the government and a small amount in fees and charges:
education
transport, including buses and highways (for fault reporting such as streetlights or potholes)
planning (minerals and waste)
fire service and public safety
social care
libraries
waste management
trading standards
registration and licensing of births, deaths and marriages
01707 357 000     contact-whc@welhat.gov.uk      http://welhat.gov.uk/
This covers a smaller area than the County and locally covers areas like Welwyn Garden City (which has no parish council) Hatfield (which has it's own Town Council) and other areas like the Ayots.  They're responsible for services like:
parking enforcement including double yellow lines
leisure facilities and local nature reserves
rubbish collection and recycling (disposal is undertaken at County level)
Council Tax collections
electoral registration
licensing (taxi's, markets, alcohol, food hygiene)
housing
planning applications
A list of the potential powers which as a Parish Council are available, can be found here. A parish can take on any role delegated to it.  The key difference is that for parish councils, funding comes from the precept (and fees from hall hires, allotment rents etc.).  This means parish councillors can seek the views of local residents to see if they wish to increase spend on local services (e.g. the car park leasing).
You can find out more from the Government website.